Driving Digital Transformation in Water and Utilities Sector
Innovation Solutions with Looker
Error: Contact form not found.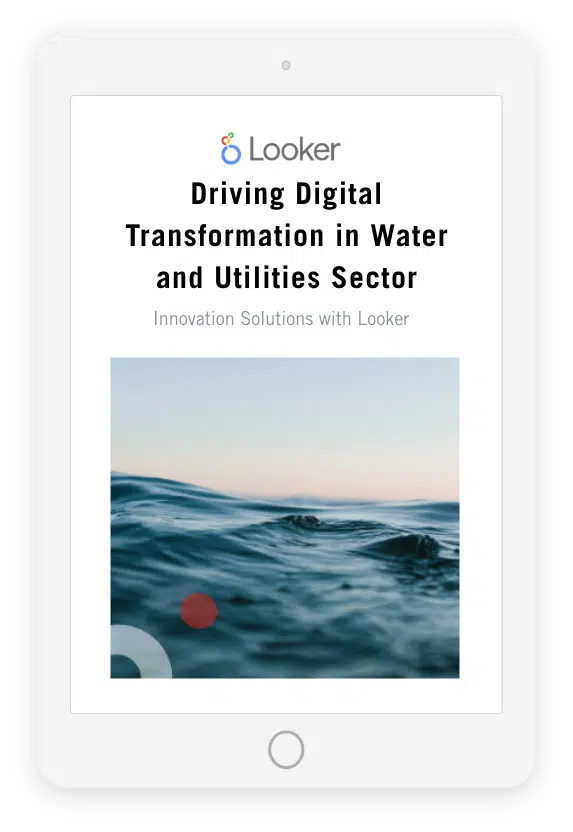 About this Whitepaper
With a number of environmental, economic and societal factors impacting the world's water supply, the water sector is poised to leverage technology to implement a transformation strategy to meet near-term problems and prepare for long-term challenges.
This whitepaper identifies four key areas where the latest tools and technologies fit to drive water sector innovations and solve challenges for improving resilience around key assets and infrastructure, predicting and preventing sewer flooding, de-carbonisation, and production planning and optimization.
Who is the Whitepaper for?
Technology and Business leaders at Water & Utilities companies focused on innovation to achieve objectives for
Clean water for all
Protecting natural systems
Instructure system resiliency
Net zero carbon
Table of Contents
Water and Utilities Sector Challenges
A look at why the water sector needs to focus on innovation and what is being done to foster innovation.
Water and Utilities Sector Innovations
Innovation solutions to drive digital transformation and modernisation:
Listening to Hardware / Connected Devices using IoT and Robotic Operation Monitoring with RPA
Prediction and Prevention of Sewer Flooding using Machine Learning
Data-as-a-Service: Using Data and Evidence to Drive Decarbonisation and Work Towards Net Zero Carbon Emissions
Water Distribution System, Production Planning & Optimisation Using ML/AI
Taking Action
With the many challenges facing water and utilities comes opportunities to explore new technology and new thinking to transform the sector.
All Rights Reserved @ Bitwise 2020