Bitwise Foundation in partnership with Bitwise announces Technology Services Fund
March 26, 2020
CHICAGO – March 26, 2020 – Bitwise Foundation, a corporate social responsibility organization, in partnership with Bitwise, a Chicago based technology consulting and services company, announces the establishment of a Technology Services Fund to support non-profit organizations in need of technology services in response to social restrictions related to the novel coronavirus COVID-19.
Statement from Hema Sakhardande, co-founder and chief operating officer at Bitwise:
"During these uncertain times, we are all adapting and improvising with the situation. However, some organizations may not be as ready as others. To support non-profit organizations that require immediate technology assistance, we are partnering with Bitwise Foundation to offer technology services at no-cost."
To establish the Technology Services Fund, Bitwise is committing over $1 million USD in services value to assist non-profits with:
Tech assistance and training for Teachers/Staff
App Development
Remote Infrastructure assistance
Software Set-up
Reporting and Dashboarding
ANY other technology services within the domain of Bitwise's offering
The fund is focused on offering IT solutions and services to support the technology needs of non-profit organizations such as schools, hospitals and other essential public services. Please pass this message on to a school or other essential services organization that may require support now.
Contact bwfoundationusa@www.bitwiseglobal.com to request availability.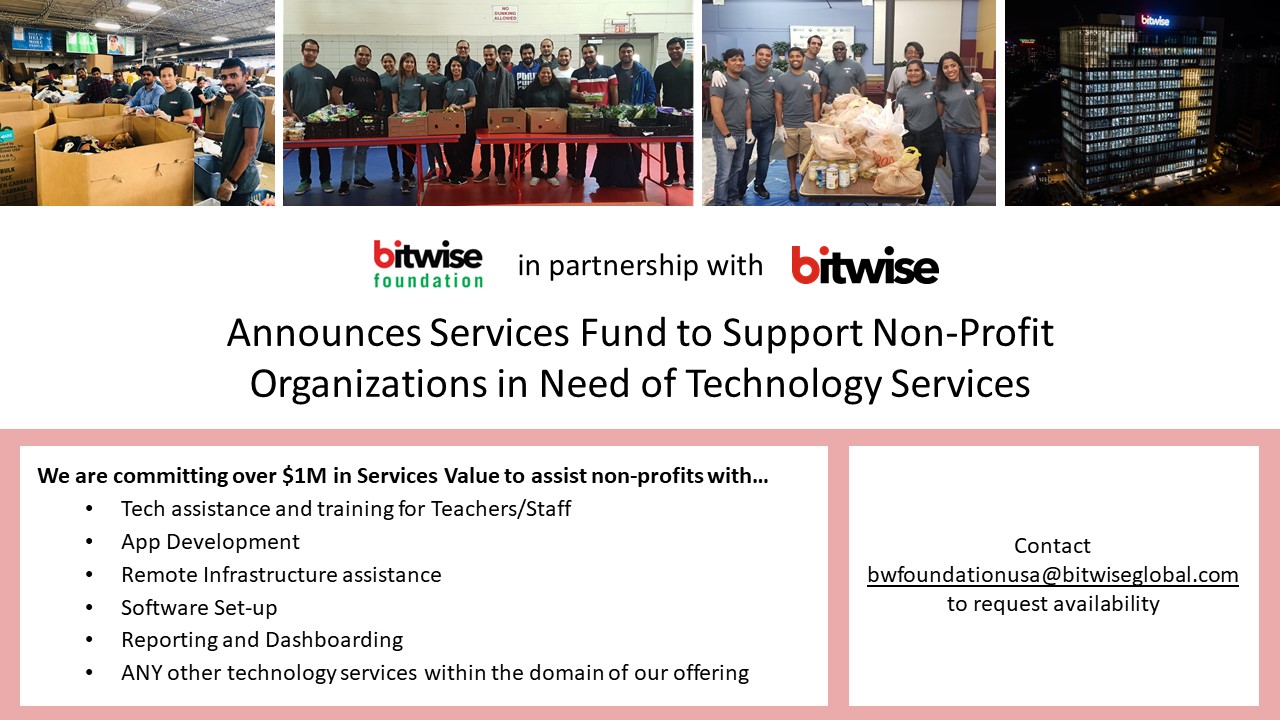 Share on LinkedIn
About Bitwise
Bitwise is a technology solutions provider that leverages data to enable business insights. Our breakthrough technology innovations help our global clients maximize their competitive advantage. We are the industry's most experienced and dedicated team of data professionals, focusing on Data Warehousing, Data Integration, Analytics, Business Intelligence, Big Data, Cloud and Digital Computation. We optimize value for our clients through our global delivery model and with our proprietary technology tools that reduce the time, complexity and cost of data initiatives. Together, our people and technology provide the insights clients need to continue to lead in their fields.
Founded in 1996, Bitwise is headquartered in Chicago, IL with UK office in London and global delivery centers in Pune, India. For more information, visit Bitwise at www.bitwiseglobal.com.