Your ETL Migration journey with AWS Glue starts here.
Accelerate with our automation solution and proven approach.
Let's get started

ASSESSMENT
We analyze your ETL and architect the optimal solution for AWS ecosystem

CONVERSION
We use ETL Converter to convert your legacy code to AWS Glue with up to 80% automation

VALIDATION
Our automated validation gives your business confidence in the new workflows and data

IMPLEMENTATION
Our ETL Migration experts deploy the fully tested and optimized code in AWS Glue
Explore more on Risk-Free ETL Migration to AWS Glue

Challenges of Traditional ETL Tools
Traditional ETL tools present challenges for meeting modern business intelligence and analytics requirements
Not able to cater to Business Analysts, Data Analysts and Data Scientists for data integration needs
High costs associated with licensing for advanced features and lack usage based pricing
On-premise ETL tools are complex to manage and lack scalability
Vendor lock-in of jobs written in traditional ETL tools limits portability
Benefits of Migrating to AWS Glue

High Scalability
No infrastructure to maintain and run jobs at petabyte scale

Ease of Use
Data integration development environments to cater to different skill sets
Control Costs
All-in-one pricing and usage-based cost model
Reduce complexity
Process petabytes of data in real time, batch and event driven modes

Accelerate Innovation
Take advantage of advanced capabilities of AWS ecosystem such as AI
Pain of Migrating On-Premise ETL to the Cloud
There are serious challenges and risks in manually migrating ETL that cause organizations to overrun timelines and budgets
Time consuming and very resource intensive – need expertise for both source & target ETLs
Incompatibility issues due environmental change
Identifying the work around where direct mapping is not available
Tedious and prone to errors / requires rigorous testing
Bitwise ETL Migration Solution
Bitwise uses automation in each phase of converting on-premise ETL to AWS Glue with a complete end-to-end migration solution
Benefits of Bitwise ETL Migration Tools & Utilities
Flexible to convert Any ETL to AWS Glue
Accelerate overall delivery – Deliver faster and better with high quality of converted target code
Adoptable to specific source and target coding standards and best practices based on client needs
Generates metadata and able to export in any format
Proactive identification of areas needing workarounds through Conversion Report
Adoptable to changes in the ETL landscape
Customization in the Adoption Plugin on discovering common code patterns within the Client's environment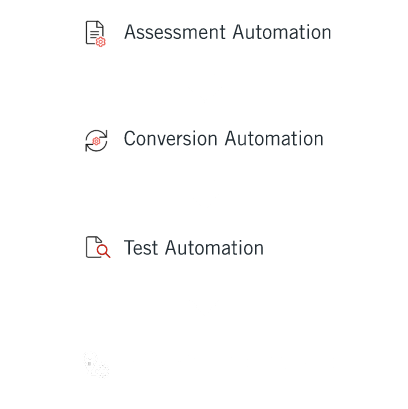 Automation Tools and Utilities for ETL Migration
With our automation tools, Bitwise delivers optimized code that is significantly less error-prone than manual conversion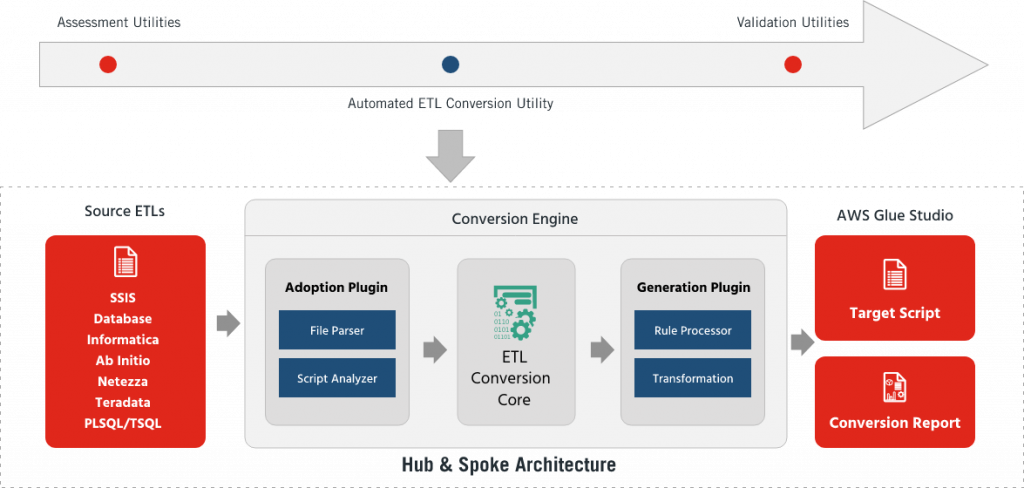 Bitwise ETL Migration Expertise
Bitwise ETL conversion experience plays a key role in our ability to deliver migration projects within expected timeline and cost
10+ Years
Overall 10+ years of experience in ETL Conversion
24000+ ETL Apps
Automation Conversion of more than 24000+ ETL Apps
15+ ETL Tools
More than 15+ ETL tool combinations
Migration experience with leading ETL tools including:
Informatica – DataStage – SSIS – Ab Initio – Talend – PL/SQL
Why Bitwise for Migrating your ETL to AWS Glue
Knowledge base and best practices for architecting optimal solution in AWS
End-to-end migration using in-house built automation tools at every phase
Systematic approach for highly secure and accurate migrations
Ready pool of ETL migration specialists and AWS Glue experts
Up to 50% Reduction in Migration Time
Up to 60% Reduction in Migration Cost
Migrate to AWS Glue with Confidence
Explore how Bitwise can help de-risk your migration of legacy ETL to the cloud
Error: Contact form not found.