Bitwise – Truly A Great Place to Work
At Bitwise, People come first. In fact, they are everything, the heart and soul of our organization. Our open culture means that we tackle challenges side-by-side and learn from each other irrespective of the hierarchy. A culture that promotes an ownership attitude rather than an employee attitude, a culture that thrives on synergies and teamwork to attain organizational goals while enabling individuals also to achieve personal goals.
Our employee-centric policies go hand-in-hand with our customer-focused work culture that defines our success. We optimize value for our clients through a global delivery model supplemented by proprietary technology tools that reduce the time, complexity, and cost of data initiatives. A synergy of efficient technology and motivated employees enable us to provide critical insights to clients to continue their lead in the respective fields.
Visit our Careers page to see more on what makes Bitwise a great place to work and hear how Bitwisers have found their place in our organization.
Behind the Great Place to Work Certification
Great companies are architected by happy employees. Besides, a company cannot be customer-centric unless it is employee-centric. Our success is highly attributed to our work culture that nurtures employees and motivates them to give their best for each client's success. According to a Great Place to Work survey, 89% of employees at Bitwise say it's a great place to work compared to 57% of employees at a typical US-based company.
89% of the employees at Bitwise proudly own their work. They appreciate the lack of micro-management and feel more responsible as the management trusts them to do an excellent job without watching over their shoulders.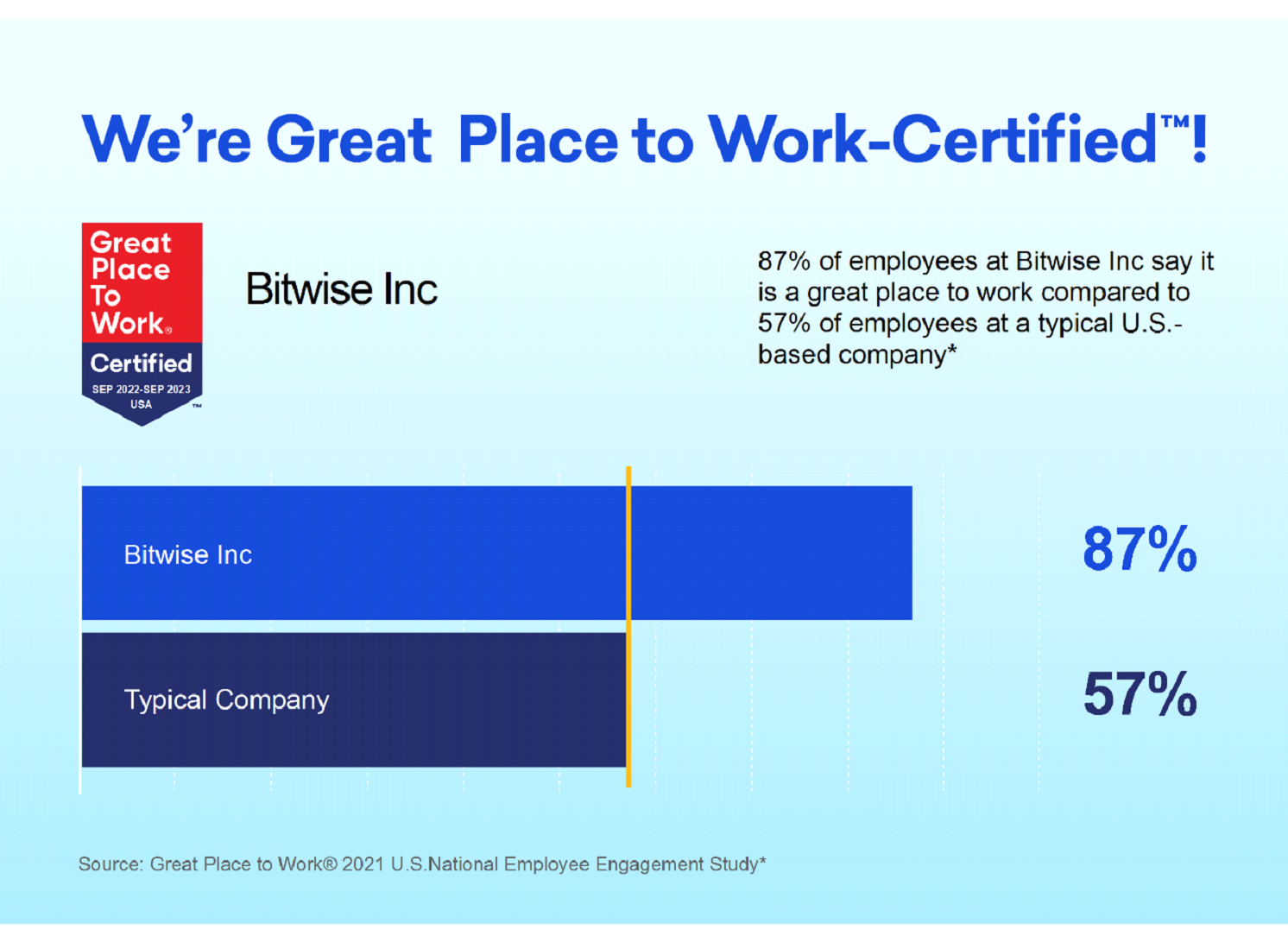 As a company, we strongly believe in empathy and compassion. We encourage our employees to support each other and work together as a team in a high-performing environment. By giving each employee suitable opportunities to grow professionally and personally, we encourage them to compete against themselves and work better each day to increase the team's overall productivity.
Work-life balance is another factor that employers overlook and contributes majorly to burnout. At Bitwise, we aim to be different by trusting our employees to choose when to take a day off. In the survey mentioned above, Bitwise employees reported they could take a day off whenever they felt necessary without being questioned or facing any adverse consequences. They also find the general working environment and the facilities provided by the employer to add to their productivity.
You can explore the open positions at Bitwise for an exciting career in an innovative and equitable workplace.